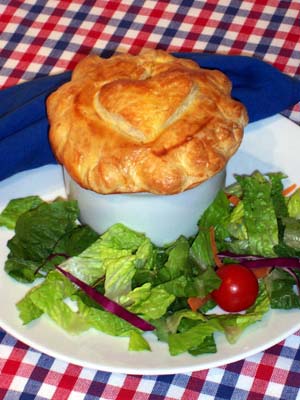 AMISH RECIPES - BEEF POT PIE
* 2 lbs. stewing beef
* 6 medium potatoes
* pot pie dough
* 2 onions
* chopped parsley
* salt and pepper
Cut the beef into 1" cubes cover with water, season and boil until tender. Peel potatoes, cut in ¼" slices and slice the onion. Into the hot broth drop layers of potatoes, onions, a sprinkling of parsley and dough squares alternately, ending with dough on top. Cover and boil for 20 minutes. Stir meat thru pot pie.
For the pot pie dough:
To 2 cups of flour add a little salt, 1 egg, beaten and enough milk to make a stiff dough. Roll out thin (⅛") on floured board and cut into 2" squares. Equally good with veal or pork.